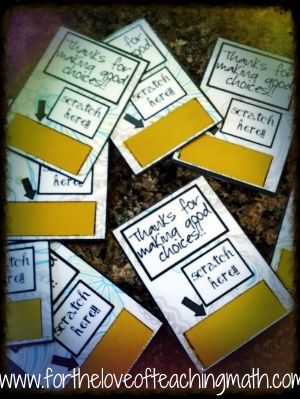 Raise your hand if you LOVE going through your Pinterest feed and going to town "pinning" great ideas you find. I know I do! I am always pinning stuff. I pin things that have nothing to do with math or education, with thoughts of ways to incorporate them in my classroom. My problem is, is that I pin a bunch of stuff but I forget to ever go back and look at the things I did pin. Well, I have finally went back through some of my pins and am starting to put some of them to use. Here is a great idea I pinned and decided to incorporate into my routine for this next school year. Scratch offs! I made a couple of sheets of "rewards" for different things, kind of a positive reinforcement if you will, for students I find making good choices. These can be used for all ages of students.
The materials you will need are:
acrylic paint

dish soap

paint brush

painter's tape

bowl with lid

cardstock

laminator or contact paper
The first thing I did was print off the page of "scratch offs" on to cardstock. I used cardstock because you could see through the back of regular paper. Then I laminated it with my personal laminator (that I think every teacher should own….. you can get cheap ones, and buy the sheets in bulk at Sam's for $20).
Then I taped it off so that I could get nice, crisp lines. You wouldn't necessarily have to tape it off.
Then I mixed up the scratch off mixture. You need to mix two parts acrylic paint to one part dish soap (any dish soap will do, I used the fancy smelly Target brand because that's what I had). I used one of the million medicine cups that I have (because I have two kids) in order to measure it out. I'm sure most people can do this without actually measuring it, but I'm a math person so I measure most everything. lol. Mix it thoroughly, but try not to make too many bubbles.
I used one of those "throw away" bowls with a lid so that I could save the mixture and it wouldn't dry out.
Then I used a paint brush to put a layer of the mixture on each of the areas to be scratched off.
It took three coats of the scratch off mixture to really make sure the words were completely covered.
Then I took the painter's tape off to reveal the pretty scratch offs!
Click here or the picture below to get the download for the scratch offs I used for free!
Let me know of other uses you could see for scratch offs in your classroom in the comments below! Thanks for reading!